by Ben White, Centre for Digital Music, Queen Mary University of London (in collaboration with Eileen Simpson)
British Art Show 8 
Talbot Rice Gallery, University of Edinburgh
13 February – 8 May 2016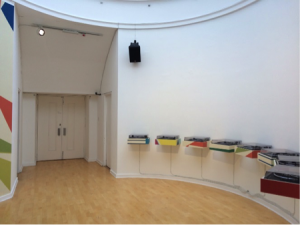 Auditory Learning is part of the wider project of Open Music Archive, to find, distribute and reanimate out-of-copyright music recordings. Sourcing vinyl 45 rpm records of chart hits from 1962 – the last year that commercial recordings can be retrieved for public use until 2034 due to recent copyright revisions – and using emerging information retrieval technologies, the artists have extracted over 50,000 sounds to produce a new public sonic inventory. See Open Music Archive website: http://www.openmusicarchive.org/auditorylearning
At Talbot Rice Gallery two new works are presented which explore the reassembly of this corpus of 1962 sounds:
Assembled Onsets features eight modified turntables and individually lathe-cut records which play a new sound work assembled from the inventory of individual notes, percussive elements and vocal phonemes. The surrounding graphic fragments recall vinyl 7 inch printed paper sleeves.
Linear Search Through Feature Space is a looped audio work in which the algorithmic playback of acoustically similar sounds assembles an evolving rhythmic soundscape – a sonic journey recalling the sounds of 1962.
Auditory Learning will change and develop throughout the exhibition's tour. Reassembled as part of a live event during British Art Show 8 and Huddersfield Contemporary Music Festival in Leeds, in Southampton it will form the soundtrack for a new film produced with a group of local teenagers.
The British Art Show is widely recognised as the most ambitious and influential exhibition of contemporary British art, with artists chosen for their significant contribution over the past five years. Organised by Hayward Touring at Southbank Centre, London, and taking place every five years, it introduces a broad public to a new generation of artists.
Eileen Simpson and Ben White, Auditory Learning: Linear Search Through Feature Space (2016) excerpt.