By Steve Benford, Mixed Reality Lab, Nottingham University and Mathieu Barthet, Centre for Digital Music, Queen Mary University of London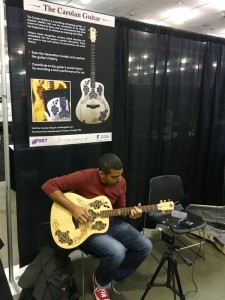 The FAST project was in full force at the ACM's annual Computer-Human Interaction conference – widely known as CHI – in San Jose in May. CHI is the leading conference for research into interfaces and interaction and was attended by over 3,000 delegates this year.
First up for FAST was our work on the Carolan guitar as an example of an 'accountable artefact' a physical object that can becomes associated with a growing digital record and it is passed among different custodians over its lifetime and that can interrogated to tell various stories of provenance, use or personal meaning based on this. Our research paper on Carolan was well received, winning a "Best of CHI" honorable mention (awarded to the top 5% of all submissions) and also being nominated for a Best Art paper (the first year for this category).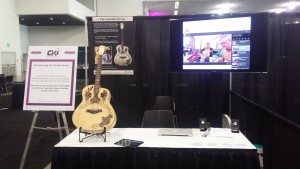 We also presented Carolan as an exhibit at Interactivity, CHI's hand-on programme of exhibits. Our stand was popular, enjoying a constant stream of visitors, including several who were recorded playing the guitar (see our blogpost at https://carolanguitar.com/2016/05/13/56-chi/).
FAST also contributed a paper on brain-controlled interfaces for entertainment, specifically a study of the design and experience of our associate artist (and PhD student) Richard Ramchurn's unique movie #Scanners. This paper introduces an unusual taxonomy for designing brain-computer control of digital media in which participants' extent of voluntary control, as well as their conscious awareness of this control, varies throughout an experience. We were excited to win the Best Art Paper award for this paper, adding to FAST's haul of certificates.
Richard, Matthew and the team also exhibited #Scanners at CHI Interactivity, attracting great interest and invitations to stag the work elsewhere.
Several FAST demonstrators were presented in our review paper « Crossroads: Interactive Music Systems Transforming Performance, Production and Listening » (http://bit.ly/crossroadsMusicHCI) at CHI 2016's Music and HCI workshop which gathered international experts and pioneers of the field of Music Interaction. The workshop which proved very successful will lead to the publication of a book aiming to reflect on the latest research in Music and HCI and to strengthen the dialogue between the music interaction community and the wider HCI community.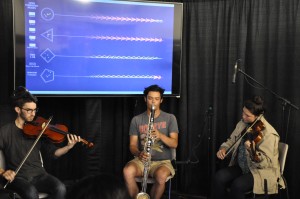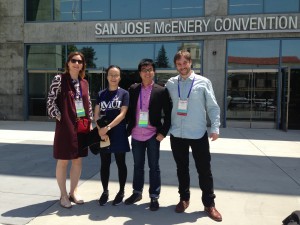 FAST innovated during CHI's Interactivity session being the only project to propose a series of live interactive music performances during which conference attendees became not only listeners but truly engaged in the music creation process. This was orchestrated by the Open Symphony team (Yongmeng Wu, Leshao Zhang, Kate Hayes, Mathieu Barthet) who showcased their participatory music system enabling audience members to generate live graphic scores for directed improvisations using mobile phones (http://bit.ly/opensymphonyCHI2016). The project lead to a fruitful collaboration with talented local musicians from University of California Berkeley and their Center for New Music and Audio Technologies (CNMAT) who were rehearsed prior to the conference. The Open Symphony musical and technical system sparkled the interest of many CHI attendees during the exhibition and the performances welcomed several hundreds of participants who actively engaged with the music. It was not only a genuine way to demonstrate new music composition and listening paradigms through computer-supported cooperative music creation but also to reach a wider audience and collaborate with local performers, as one element of the term 'Open' relates to the participatory nature of the project.