Ron Herrema, PhD
Composer, developer & generative artist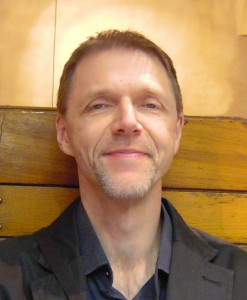 My original artistic training was as a classical composer. My practice eventually developed to include electroacoustic and computer-based music, including algorithmic composition techniques (i.e. writing code that generates music). I subsequently took my coding skills into the graphic realm, and now often combine the musical and graphic worlds into audiovisual works of art.
My artistic career now relates to my activities as a composer, digital media artist, and developer. My work is thus considerably varied, including compositions and performances (both acoustic and electroacoustic), audio-visual works (installations, concert presentations, and apps), generative animations and still images, and collaborations with other technology-minded artists. Nevertheless, for the past fifteen years I have been steadily developing my work along two central themes: first, the employment of computational/algorithmic techniques, and second, the exploration of relations among music, sound, and visual arts. And more recently, a third theme has emerged, partly as a result of my studies with Pauline Oliveros and her Deep Listening practice: the relations between artistic expression and contemplative practice when mediated by digital technologies.
At present, my research and practice are focused on creating audiovisual environments for mobile platforms.  Mobile platforms continue to intrigue me, because of the potential impact inherent in their ubiquity, the constraints and opportunities afforded by their diminutive, tactile environment, and the opportunity they provide for the forging of new compositional/performative paradigms. What are the dynamics and affordances of presenting and disseminating my creative work within this new 'venue'? What does it mean for working within a 'space'? In what new ways can I connect with audiences?
Currently I am working on a second generative, audiovisual iOS app, Infinity, with the support of B3 Media's TalentLab and the University of Nottingham's Mixed Reality Lab. With MRL researcher Dr Sean McGrath, I am pursuing a user centered approach to the app's development, working through a series of user studies to establish optimal design and to uncover issues around usability within the unusual framework of an app that seeks to balance objectives related to both aesthetics and contemplative practice.
Links:
https://vimeo.com/100254134
http://ronherrema.net