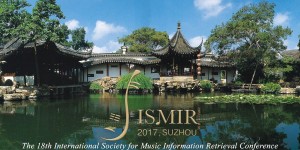 Members of the FAST IMPACt project team from C4DM, Queen Mary University of London and Oxford e-Research Centre, Oxford University presented their research at the 18th International Society for Music Information Retrieval conference at the National University of Singapore, Suzhou, China, 23 – 27 October.
C4DM researchers gave several presentations at the above conference. The paper "Transfer learning for music classification and regression tasks" by the PhD student Keunwoo Choi, Senior lecturer Dr George Fazekas and Professor Mark Sandler won best paper at the conference. In the paper, the researchers presented a transfer learning approach for music classification and regression tasks. They proposed to use a pre-trained convnet feature, a concatenated feature vector using the activations of feature maps of multiple layers in a trained convolutional network. They showed how this convnet feature can serve as general-purpose music representation. Access to the full paper and abstract can be found here: https://ismir2017.smcnus.org/wp-content/uploads/2017/10/12_Paper.pdf
A paper by Research Associate Dr David Weigl and Senior Researcher Dr Kevin Page on Music Encoding and Linked Data was also presented at the ISMIR Music Information Retrieval Conference on 24 October. The paper is a product of the FAST IMPACt project. It presents the Music Encoding and Linked Data (MELD) framework for distributed real-time annotation of digital music scores.
Further information
OeRC news article:
http://www.oerc.ox.ac.uk/news/weigl-page-paper-music-encoding-and-linked-data-be-presented-ismir
ISMIR Conference website:
https://ismir2017.smcnus.org