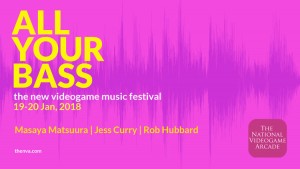 The Mixed Reality Lab in collaboration with the National Video Game Arcade and the Theatre Royal and Royal Concert Hall, Nottingham present two exciting activities scheduled for 'All Your Bass', a new videogame music festival in Nottingham.
https://www.thenva.com/allyourbass
1 – "Climb!" for Disklavier and Electronics, performed by Anne Veinberg and Zubin Kanga.
6pm, Friday 19th January at The Royal Concert Hall, Nottingham. Free entrance.
Bringing a new perspective to the influence of videogames on classical music composer Maria Kallionpää, the University of Nottingham's Mixed Reality Lab and University of Oxford's e-Research Centre present their recent collaboration "Climb!" for Disklavier and Electronics. "Climb!" is a virtuoso piece composed for live pianist, a self playing Disklavier piano, interactive system and visuals which combines contemporary piano repertoire with elements of computer games to create a non-linear musical journey in which the pianist negotiates an ascent of a mountain. Along the way the performer encounters musical challenges that determine their route, battle through uncertain weather conditions, and come face-to-face with animals and other obstacles that block their path.
Pianists Anne Veinberg and Zubin Kanga present two back-to-back performances of "Climb!", each finding their own route up the mountain.
"Climb!" is supported by the EPSRC-funded FAST project (EP/L019981/1) and University of Nottingham's Research Priority Area (RPA) Development Fund.
2 – Nott Listening: an exploratory audio walk around Nottingham's City Centre
Times: 10am to 5pm, Friday 19th, Saturday 20th and Sunday 21st January. National Video Game Arcade. Free activity
Specially crafted spoken stories and original music accompany you as you walk, immersing you in a rich sound world controlled by your movements and your location. View the City Centre streets through a new lens and peer into the lives of the people you meet along the way. Original texts written by members of the University of Nottingham Creative Writing Society, Jocelyn Spence and Adrian Hazzard. Original music composed by James Torselli and Adrian Hazzard.
Nott Listening commences from The National Video Arcade, 24-32 Carlton St, Nottingham, where you can loan the required equipment. The walk is free to do, but you will need to leave some security with us while the equipment is in your possession. We can facilitate a limited number of people at any given time, so you are welcome to just drop in, but we recommend that you book a slot in advance by calling Adrian Hazzard on 07983416504 or by emailing locativesound@gmail.com
This work is supported by the Horizon Centre for Doctoral Training at the University of Nottingham (RCUK Grant No. EP/G037574/1) and the EPSRC-funded FAST project (EP/L019981/1).