Written by: Delia Fano Yela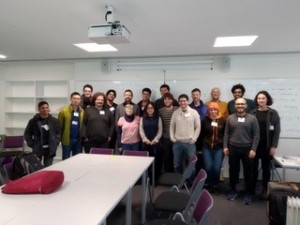 For a second year in a row, C4DM hosted the Hands-on Sound Source Separation Workshop (HOSSS) on Saturday 11th of May, and it was a great success! It originated in 2018 out of the student frustration of not having enough space to brainstorm in conferences, when all relevant experts are in the same place.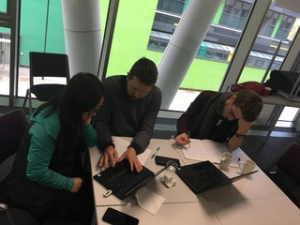 The idea is simple: get together and spend the day actively brainstorming/hacking some source separation related topics given by some of us (so no keynotes/talks/posters). Everyone is there to engage with each other and so everyone becomes much more approachable than in a traditional conference setting. This format therefore aims to inspire early-stage researchers in the field and promote the sense of scientific community by offering a common place for discussion.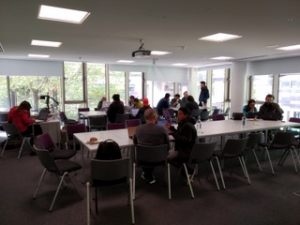 The workshop started with an ice-breaking game followed by a quick presentation of all participants.  Then, those who wanted to propose a topic for discussion did so briefly, explaining their idea on a whiteboard. As they did, we created a list of topics on the side. Once everyone who wanted had the chance to present their idea/problem/interest to the group, we proceeded to vote.
Each participant could pick 3 topics they would like to work on for the rest of the day. In doing so, and after a little pruning, work-groups were formed. We then divided into groups and started the hands-on work on the topic. Some of the topics were more broad than others; a group ended up brainstorming on the nature of singing voice, where another was full-on hacking a deep clustering model for source separation recently added to the nussl python library by one of the participants, Prem Seetharaman from the Northwestern University.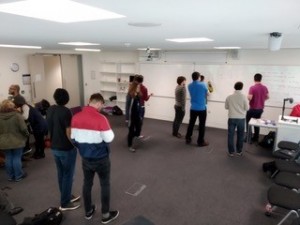 After lunch, some people changed groups. For example, after the two "Antoines" (Liutkus and Deleforge) had a productive Gaussian Processes morning with our PhD candidate Pablo Alvarado, another of our PhDs, Changhong Wang, discovered the world of median filtering source separation lead by the hand by one of the very best, A. Litukus.
In the afternoon there was a real great feeling of productivity, everyone seemed to be "in the zone". However, one can only concentrate that much, so at some point we all gathered to discuss how far we got in our quest and share what we have learned. We left the discussion of future avenues for the pub, were we all ended up the day to celebrate with our new colleagues!